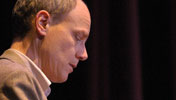 Joe Mulholland is an Associate Professor of Harmony and Interim Chair of the Harmony Department at Berklee College of Music. Before coming to Berklee, Joe taught piano and ensemble at Brown University and Boston area music schools, as well as serving as music director for Didi Stewart and Friends, an award-winning ensemble devoted to presenting full-length tributes to composers and performers in the American Songbook and classic r'n'b styles.
An accomplished pianist, recording artist, composer, and teacher, he has released three CDs of original music written for his sextet and has composed numerous electronic scores for Boston-area dance companies, including a Tango Suite commissioned by the Northeast Youth Ballet that received performances in Boston and New Jersey. Joe performs with his trio one hundred nights a year at the Top of the Hub, an upscale jazz venue in Boston, in addition to appearing as a sideman and vocal accompanist in numerous other concert and club settings. In his capacity as music director for the Windhover Center for the Performing Arts, he has composed and recorded sound design and songs for original productions of Peer Gynt and Dogtown Common. He also wrote eleven songs and three dance numbers for the original musicalBattle for Pigeon Cove Harbor, which received a three-week run in theaters on the North Shore of Boston.
Piano is his first love and main instrument, but he is equally comfortable on synthesizer and has an abiding love of Hammond B-3 organ. For enjoyment and variety, Joe plays guitar and percussion. He has recently divided his spare time between transcribing and playing Brazilian music and studying with the legendary jazz teacher Charlie Banacos.