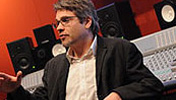 Michael Sweet is the artistic director of Video Game Scoring at Berklee College of Music. Over the past two decades in music, he has become an accomplished video game audio composer and has been the audio director for more than 100 award-winning video games. His work can be heard on the X-Box 360 logo and on award winning games from Cartoon Network, Sesame Workshop, PlayFirst, iWin, Gamelab, Shockwave, RealArcade, Pogo, Microsoft, Lego, AOL, and MTV, among others. He has won the Best Audio Award at the Independent Games Festival, the BDA Promax Gold Award for Best Sound Design, and has been nominated for five Game Audio Network Guild (GANG) awards.
Since 2008, Michael has led the development of video game scoring curriculum at Berklee College of Music. He has developed curriculum for many classes that teach the art of video game composition, and helped establish the minor in Video Game Scoring at the college. As a teacher and communicator, Michael has lectured at many universities and prominent conferences in interactive music and sound design including the Game Developer's Conference, Audio Engineering Society, NYU, SVA, and Parsons The New School of Design.
He is the author of Writing Interactive Music for Video Games: A Composer's Guide (Pearson Publishing). Before Berklee, Michael was the co-founder and creative director of Audiobrain, a company dedicated to breaking boundaries with interactive sound design and music. Michael's creative vision had led Audiobrain to develop many emotionally immersive award-winning experiences for games, broadcast and sonic branding.
Michael's latest game, Walden, A Game, a first-person simulation of the life of American philosopher Henry David Thoreau during his experiment in self-reliant living at Walden Pond, is being released on Playstation, PC, and Mac in 2017. Michael was the audio director of the project, contributing to all sound effects and music for the game developed by the USC Game Innovation Lab in cooperation with the National Endowment of the Humanities.