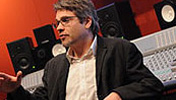 As an Associate Professor in the Film Department at Berklee College of Music, Michael Sweet leads the development game scoring curriculum at Berklee College of Music. He is an accomplished game audio composer who is widely recognized for continued innovation in music and sound. Over the past two decades in music, he has been the audio director for more than 100 games. Among his many achievements, he composed the X-Box 360 startup sound and audio logo, won the Best Audio Award at the Independent Games Festival (IGF) and the BDA Promax Award for Best Sound Design for a Network Package (HBO Zone), and has been nominated four Game Audio Network Guild (GANG) awards.
Michael was the cofounder and creative director of Audiobrain, a company dedicated to innovation with interactive sound design and music. As the founder of two separate companies dedicated to interactive audio, he has created numerous emotionally immersive award-winning experiences for games, broadcast, and sonic branding. His work can be heard on the X-Box 360 logo and on award winning games from Cartoon Network, Sesame Workshop, PlayFirst, iWin, Shockwave, RealArcade, Pogo, Microsoft, Lego, AOL, and MTV, among others. In broadcast, Michael has composed numerous network identities, including HBO, VH1, Comedy Central, CNN, General Motors, and NASDAQ. His digital artistry has resulted in groundbreaking interactive scores for digital design installations that have traveled the world.
Michael is frequently a featured speaker at prestigious industry events, including the Game Developers Conference, the Montreal Game Summit, Audio Engineering Society (AES), New York University, Parsons School of Design, and SCAD's GDX Conference.