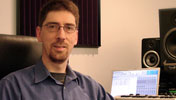 Andrea Pejrolo is an assistant professor in the Contemporary Writing and Production department at Berklee College of Music and an associate professor at the New England Institute of Art. Andrea is a MIDI programmer, composer, and bassist. He is the author of Creative Sequencing Techniques for Music Production (2005) and Acoustic and MIDI Orchestration for the Contemporary Composer (2007) and has written several articles for music magazines, including Sound On Sound, Bass World Magazine (USA), Muralann and Boheme Press (Canada), and Il Capitello Publisher (Italy).
Andrea has extensive professional experience as a sound designer, audio engineer/producer, MIDI programmer and composer for film, TV, theater and multimedia. Some of his recent collaborations and projects include Lou Salloum and Jamie Helou (Beirut), Traits de Marque in Paris, iAcoustica Studio drum library, iDrum Rock Edition for iPhone/iPad in collaboration with Izotope, arrangements and recording with the City of Prague Philharmonic Orchestra, Don Sebesky, ABC, CBS, Cy Coleman, Burning Petals Music Production (U.K.), the Broadway Show "Swing" (St. James Theater, NY), and the Grand Canyon Music Festival.
Andrea is an active presenter and lecturer for conferences such as AES and MacWorld. Currently he is working on a new publication for Oxford University Press about sound design and production techniques. Some of his latest work as a music technologist and programmer can be seen on Vimeo here and here. He holds a Ph.D. in jazz composition/performance from New York University, a Master in Composition for Film, TV, Theater, and Multimedia from the University of Bristol (U.K.), and a Music Diploma in Jazz Performance from Manhattan School of Music in New York City.
Follow Andrea's work via Twitter @apejrolo_music, or visit www.apejrolo.com.