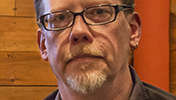 Tony Schultz has been an audio engineer, music producer and composer for more than 25 years as owner/operator of Big T Productions in Boston, MA. He is an Assistant Professor at The New England Institute of Art, where he has taught since 1997, specializing in MIDI and Audio Technology.
Tony has a Bachelor's of Music degree in Music Production and Engineering from the Berklee College of Music and a Masters in Music Technology from the University of Newcastle in Callaghan, Australia.
He has served three consecutive two-year terms as the Chair of the Boston Section of the Audio Engineering Society and is currently serving the AES as VP of the Eastern Region of the US/Canada.
Past clients include; RCA Records, Mercury Records, Virgin Records, WFNX, Filene's, Home Inc., EF Education, Schneider & Associates, Softskull Press Inc., Brand X Filmworks, Dudnyk Healthcare, Teatro de Marionettas de Venezuela and the NAHB Production Group.
Tony has presented at a number of colleges including Berklee College of Music, Harvard University and the Royal College of Music in London. He is a member of the Society of Professional Recording Services (SPARS), National Academy of Recording Arts & Sciences (NARAS) and the American Society of Composers, Authors & Publishers (ASCAP).