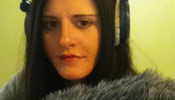 Gina Zdanowicz is an Emmy-Nominated sound designer and composer for games, film and TV. Her work can be heard on award winning AAA titles to casual games such as Just Cause 3, Bioshock2, The Bureau: XCOM Declassified, CrimeCraft, ESPN Arcade and Cartoon Network, just to name a few.
As a graduate from Berklee College of Music with a degree in Music Synthesis, Gina has focused on the games industry for the past 11 years working in-house for game developers as well as operating her own independent studio, Serial Lab Studios. Her varied experience in the games industry gives her in-depth knowledge of all aspects of the production cycle from start to finish, which allows her to greatly contribute to the overall process.
In addition to her work in games, Gina continues to score feature films and TV projects, which have won awards around the world and have premiered on networks such as Nickelodeon and Comedy Central. She is also a member of the Game Audio Network Guild (G.A.N.G.) and the International Game Developers Association (I.G.D.A).