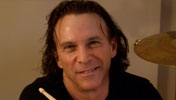 Rod Morgenstein is a professor in the Percussion department at Berklee College of Music, currently in his 14th year of teaching. He is a founding member of the ground-breaking progressive rock fusion group the Dixie Dregs, whose six most recent recordings received Grammy nominations for Best Rock Instrumental Performance. The band, touted by the Philadelphia Inquirer as "possibly the most important, and certainly the most technically advanced instrumental group in progressive fusion," continues to record and tour to this day.
Morgenstein is an original member of the heavy metal band Winger, whose recordings have reached gold and platinum status around the world. The band received an American Music Award nomination for Best New Heavy Metal Band in 1989 and, most recently, toured in over 20 countries in support of its latest release Karma. Other projects have included recording and touring with Dixie Dregs/Deep Purple guitarist Steve Morse in the Steve Morse Band; recording with Kip Winger, whose albums Thisconversationseemslikeadream, Songs from the Ocean Floor, and From the Moon to the Sun have achieved critical acclaim; teaming with Dream Theater keyboard virtuoso Jordan Rudess in the Rudess Morgenstein Project; The Jelly Jam with Dream Theater bassist John Myung and guitarist Ty Tabor from King's X; and the jazz-fusion jam band Jazz Is Dead, which has featured bassist Alphonso Johnson, guitarists Jeff Pevar and Jimmy Herring, and keyboardist T Lavitz. Morgenstein has also recorded and toured with Country Music Award winning violinist and fiddling champion Mark O'Connor and Little Feat guitarist Paul Barrere. He was part of a select group of drummers chosen to play on the Buddy Rich tribute album, Burning for Buddy. In addition, he was the resident drummer for Thoroughbred Music's annual Guitar Expo from 1995 through 1999, jamming with the likes of Slash, Billy Sheehan, Ingwie Malmstein, Mike Stern, Zach Wilde, and Ace Frehley.
Morgenstein was named the Best Progressive Rock Drummer by Modern Drummer in 1999 and is a five-time winner of the Modern Drummer Reader's Poll for Best Progressive Rock Drummer. He has been on the cover of international drum magazines 13 times, including Modern Drummer (U.S.), Rhythm (U.K.), Drums and Percussion (Germany), Sticks (Germany), Batteur (France), Drumhead (U.S.), Drum Tracks (U.S.), and Drumhead (China). He has been a regular contributor to Modern Drummer's Rock Perspectives column for many years, a member of the magazine's advisory board since the 1980s, and most recently, one of only 12 members of its pro panel, which covers a wide range of important drumming issues.
As an international drum educator, Morgenstein has performed at hundreds of clinics and drum festivals in over 20 countries. He's been a guest instructor at PIT in California and Drummers Collective in New York City. He co-designed the Vic Firth SIH1, dB22, and Kidphones isolation headphone monitors, in addition to co-developing the Vic Firth Rod Morgenstein Signature drumsticks and Sabian Tri-Top ride cymbal. His instructional materials include the books Drum Set Warm-Ups (Berklee Press) and The Drumset Musician (Hal Leonard) with Rick Mattingly; the videos Putting It All Together (Warner Bros.) and Drum Tips/Double Bass Drumming (Warner Bros.); and the audio cassettes/books Grooving In Styles/Filling In the Holes (Cherry Lane), Double Bass Drumming (Cherry Lane), and Odd Time (Bamo Productions). He has also created digital drum loops and MIDI drum sequence packages, including Epik Drums, a deluxe collection of drum kit and groove instruments developed with legendary producer Ken Scott; Power Rock Midi Drum Sequences (Beat Boy); and Progressive Rock Midi Drum Sequences (Beat Boy). Morgenstein holds a bachelor of music degree in studio music and jazz from the University of Miami.
For more information about Rod Morgenstein, visit www.RodMorgenstein.com and www.myspace.com/rodmorgenstein