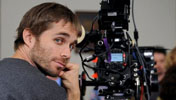 Tal Lazar is a professional cinematographer based in Los Angeles, California. With years of professional experience in the USA and abroad, Tal shoots with the latest motion picture digital cameras as well as 35mm film. Putting an emphasis on narrative feature length films, Tal has shot movies in many different genres ranging from drama to comedy and horror.
In recent years Tal has been teaching an advanced cinematography course at the American Film Institute Conservatory in Los Angeles.
Tal holds an MFA from AFI and a BFA from Tel Aviv University, Israel.