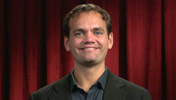 Ben Newhouse has worked as a music supervisor and composer on dozens of television shows, films, and stage productions for media corporations including ABC, FOX, MTV, and Disney. He has arranged movie themes, sixties pop music, Broadway shows, and scored for several full-length feature films using Digital Performer.
In addition, as an assistant professor at Berklee College of Music, he taught music technology and production and authored the book, "Producing Music with Digital Performer," which is a required textbook at Berklee and other music schools.
As a composer during his college years at Eastman School of Music where he received his bachelor of music degree, his music was performed primarily by Eastman groups and groups along the East Coast. "Heat", a relentless overture for orchestra, received the Howard Hanson Award in the late 90s and was premiered by the Eastman School Symphonic Orchestra.
Presently, in addition to pursuing a MBA in Entertainment from USC Marshall School of Business, Ben works as a freelance music composer and post-production specialist for the music industry in Los Angeles, Boston and New York City.
Learn more about Ben Newhouse at www.bennewhousemusic.com