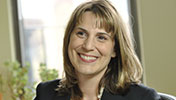 Janet Chwalibog is Associate Professor in the Liberal Arts department at Berklee College of Music where she teaches post-colonial, psychoanalytic and feminist literary theories. Her courses focus on writing and reading as creative acts that produce new knowledge as part of ongoing, centuries-long conversations that shape the world in which we live. Students in her classes explore practices and establish habits that remove barriers to creative work and unleash the creative unconscious.
Janet has worked extensively with creative artists, particularly musicians. Prior to her position in Liberal Arts, Janet directed the Faculty Development Program at Berklee, where she led the creation, assessment and revision of programs designed to create transformational learning experiences for faculty. Ultimately this work enhanced the pedagogy, interdisciplinary collaborations, artistic expression, and professional opportunities available to Berklee faculty. She developed $200,000 in faculty grants and fellowships as well as creating one of the most rigorous faculty development programs in the country, overseeing a half million dollar budget. Collaborations included works with Africana Studies (BCM), Steelgrass Recording Studios, Cindy Blackman, Terri Lyne Carrington, George Duke, Siedah Garrett, Nona Hendryx, Ray Kurzweil, Bobby McFerrin, Me'shell Ndegeocello, Bernice Johnson Reagon, Paquito d'Rivera, Patrice Rushen, Gunther Schuller, Dr. Billy Taylor, and others.
Ms. Chwalibog earned her degrees from Loyola University and Harvard University.