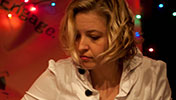 A widely respected performer, composer, and educator, Vessela Stoyanova is a triple threat on the Boston music scene. Born and raised in Bulgaria, much of her original music is inspired by the folk music of the Balkans. Her compositions have been recorded by numerous ensembles and performed at major Boston-area venues including the Berklee Performance Center, Jordan Hall, The Loeb Drama Center at the American Repertory Theater, as well as at many smaller venues around the U.S. and Europe.
As a performer Vessela combines virtuosic mallet technique with the world of electronics, especially via her prototype instrument the "Marimba Lumina" -- a sophisticated mallet MIDI controller. Currently she performs and writes for two projects: Bury Me Standing (a gypsy dirge-core band) and Goli (a modern chamber music duo), both of which she co-founded. Vessela recently joined the Jazz Composers Alliance and has been a featured soloist for a number of their concerts.
Vessela holds a master's degree in Contemporary Improvisation from the New England Conservatory of Music. She is a faculty member at Berklee College of Music, where she teaches Harmony and Marimba during the regular school year, and a Balkan ensemble during the 5 week program.