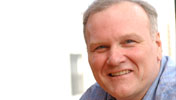 Educator, composer, arranger, and bassist Jerry Gates has been a music industry professional for over thirty - five years. His television and radio credits include Bank of America, Log Cabin maple syrup, Scope mouthwash, Marlboro cigarettes, and music preparation for "The Dennis Miller Show," jazz great Bill Holman, and film composers Jack Smalley and Richard Band. As a professor at Berklee College of Music, he teaches Contemporary Arranging Techniques, Directed Studies in Arranging, Contemporary Twelve-Tone Composition, Orchestration, Writing and Production in the Studio, and Music Preparation courses. His latest music can be found at https://soundcloud.com/jerrygatescomp.
Jerry's most recently completed projects include orchestrating, conducting and producing a string session for the soon to be released Middle Eastern television series titled, "Sultana." The main composer for this series is Hassan El Shafei. He composed the electronic score for a retrospective on Florida's poet laureate, the late Edmund Skellings titled, "Ed Skellings – In His Own Words." Additionally, he composed, directed and produced music for Nestle's "Wonk Your Room" online promotion campaign. As an author, Jerry has written a book entitled "All Twelve—Dodecaphonic Sources For Contemporary Composition" and is currently writing an arranging book for Berklee Press and Hal Leonard tentatively titled, "Arranging for Horns."
He holds a Bachelor of Music degree from Berklee College of Music, a Master of Music/Composition degree from the Hartt School, and graduated from both the Television/Film Scoring and Composing/Arranging certificate programs at the former Grove School of Music in Los Angeles, CA.