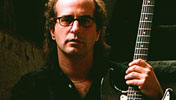 Bruce Bartlett has been an associate professor and clinician in the Berklee College of Music Guitar Department for 15 years. He has taught groove ensembles in Italy, Argentina, Los Angeles, and on campus.
His band, the Bruce Bartlett Trio, has played nationally and internationally and released three CDs: Nasty Habits , Free for a Price (featuring Abe Laboriel, Jr., on drums), and Instant Gratification .
Bruce began his career as a recording session guitarist at the age of 19, working for producer Arthur Baker in New York City. He played rhythm guitar for several underground recordings for R'n'B artists in the early 80s. More recently, he recorded a live performance DVD with John Blackwell (drummer for pop legend Prince) for Hudson Music. He also composed most of the material, along with being a featured soloist, for Modern Drummer Festival 2000 at Montclair University in New Jersey.
His sideman and leader work includes performances at the Boston Globe Jazz Festival, Montreal Jazz Festival, Quebec Jazz Festival, and Indonesia Jazz Festival. Bruce has opened for Weather Report and Hirman Bullock, and performed with Chick Corea on Chick Corea Day, in Chelsea, MA, in 2001. Currently, he is performing with Sam Kininger, the featured saxophonist on Soulive recordings.
For more information on Bruce Bartlett, visit his Web site at www.brucebartlett.com.